We recently raised a glass to celebrate Kit's 50th anniversary with Elleard Heffern, his third, soon-to-be fourth, generation family business — a legacy jeweler founded by his grandfather, Sam Heffern and George Neuhoff in 1913. As we reflect on Kit's time to-date with the company, we tip our hats to his many notable contributions which have elevated the business and the jewelry offering it brings to the St. Louis market.
After working as an engineer at McDonell Douglas, Kit started with Elleard Heffern in April of 1972. Upon joining the business, he became a certified gemologist and Certified Gem Appraiser with GIA and the American Gem Society. From there, Kit began to differentiate the store by bringing exclusive designs to the St. Louis market in a variety of ways. First, he secured exclusives with 14 high-end designers including Vhernier, Michael Bondanza, Mark Patterson, Atelier Zobel and Gurhan. From there, he added many custom designed jewelry pieces to the store's inventory by Adie Giessow, who also worked on custom commissions for clients. In fact today, one of the most special elements of EH is the ability to work with its associates to build one-of-a-kind heirloom pieces to commemorate life milestones. Perhaps one of Kit's most iconic contributions was securing the intellectual property rights to Eric Siebert's Y bracelet designs famously worn by Andy Warhol. Over the years, the Y bracelet has become one of the most covetable signature pieces exclusive to Elleard Heffern.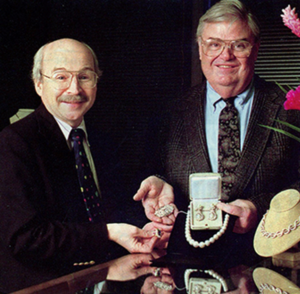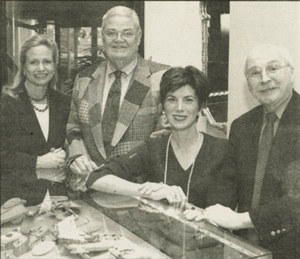 Featured in above photos left to right: Kit Heffern and former store president, Keith Shaw; Ann Corrdonier, Keith Shaw, Ann Pokoski and Kit Heffern
While we could go on about Kit's achievements during his career, we'd be remiss to not acknowledge what truly distinguishes this man as a leader and entrepreneur – his dedication to relationships. If you walk into the store on a given day, it is common to see cross-generational family members shopping together – a testament to the friendships and trust Kit has built with his clients. The same can be said for designers who fly in from across the globe for trunk shows and to support the store – these individuals he would sooner count as friends rather than vendors.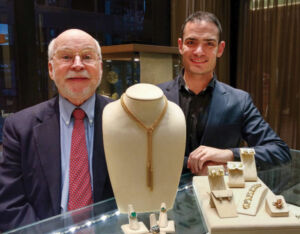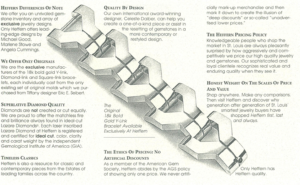 Featured in above photos left to right: Kit and Webster Heffern; iconic Y-bracelet
Like many of the treasures Elleard Heffern carries, Kit is one-of-a-kind. We are thankful to have him as the business's patriarch and look forward to more years to come under his steadfast leadership. Cheers to you, Kit!