This time of year always has us feeling optimistic as the blustery days of winter fall behind us and warmer breezes usher in blossoming trees and sunny skies. What a wonderful season to celebrate new life and love, be it the birth of a child or another year with the ones you hold dear. We recently celebrated the 43rd anniversary of Patricia and Kit Heffern, our brave and fearless leaders of this third – soon to be fourth – generation family business. 
Patricia (nee Webster) was born in Mississippi and moved from New Orleans to St. Louis in high school to attend Villa's boarding school. Following college outside of Manhattan and a multicultural experience in California, she eventually found herself back in St. Louis to be near her sister, Mimi Murphy.  In the Summer of '78, Patricia's roommate, Ellen, introduced her and Kit.  The night before they met, Patricia, who famously didn't care much about jewelry, pointed out to Ellen a beautiful piece of jewelry she saw in St. Louis Magazine and noted, to her own surprise, "Now that I like!"  Ellen laughed and replied, "That is from the man you are going to meet, tomorrow!" The next night, Ellen's Aunt Sue took Ellen, Patricia, and Ellen's brother-in-law's best friend Kit, to the Missouri Athletic Club, for dinner and dancing.  Patricia and Kit hit it off surprisingly well for a blind date, and connecting over a shared love of pinball machines, soon found themselves engaged.  They were married on March 31, 1979 at St. Peter's Catholic Church, in Patricia's family's residence of Jackson, MS. 
Over the years, the pair have enjoyed countless evenings at the Opera, the Symphony, Jazz St. Louis, and other performing arts events around town, have traveled all over the world, and have built a family together including their two sons – Webster and Charles Heffern – and beloved black labs Taia and now, Sadie.  Of course, as one would expect, many of the treasured milestones along the way were commemorated by some pretty fabulous jewelry.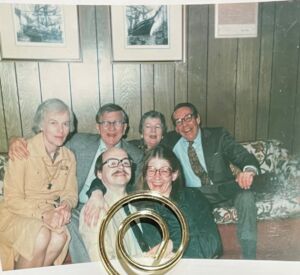 Kit and Patricia on the evening of their engagement, with their parents, Felix and Mary Emily Webster (middle) and Jo and Elleard Buridan "Hef" Heffern (outside), celebrating alongside.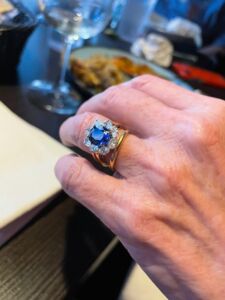 Patricia currently enjoys wearing a fabulous anniversary ring in place of her engagement ring, while the engagement ring's ruby is re-mounted into a lovely new setting.  Patricia and Kit were both born in September, and the birthstone for September is of course… sapphire.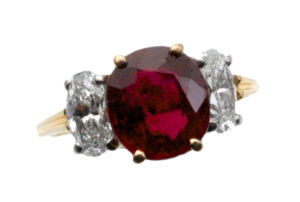 Kit proposed celebrated his engagement to Patricia with a stunning Burma ruby, set in a mounting by Oscar Heyman.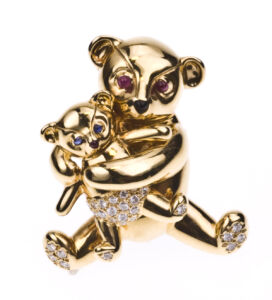 For their 33rd anniversary, 10 years ago, Kit got Patricia a Mama Bear cradling her Baby Bear, in 18-karat yellow gold, diamonds, sapphires, and rubies.  This gift was is not only representative of her role as a mother to her two beloved sons, but also a nod to her childhood nickname, "Bear" after Winnie-the-Pooh. Patricia recently passed this brooch on to her daughter-in-law, Marie, in honor of the birth of Marie's first child and Patricia's grandchild.  Marie celebrates a July birthday, and her daughter, like Patricia and Kit, a September birthday.
Do you have a special occasion approaching? We are in the business of celebrating life's most special moments, both large and small, and would love to help you select or custom create a piece of jewelry by which to remember them. Give us a call or stop in the store today!