Queen Elizabeth II was many things – a dedicated public servant; a beloved wife, mother and grandmother. Reflecting on her reign spanning seven decades (the longest of any British monarch), we rounded up ten of the most sentimental jewelry pieces from her majesty's exquisite jewelry collection.
The Imperial State Crown
Worn by Queen Elizabeth at her coronation, the current version dates back to 1937, but its origin dates back to the 15th century.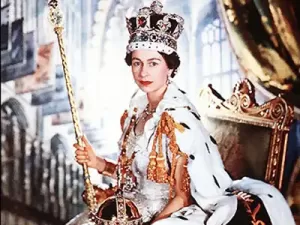 Queen Mary Fringe Tiara
This is the tiara that Queen Elizabeth wore on her wedding day. On her wedding day, it broke and the jeweler had to be summoned to fix it before the bride could leave to walk down the aisle at Westminster Abbey. Princess Anne also chose to wear this tiara on her wedding day.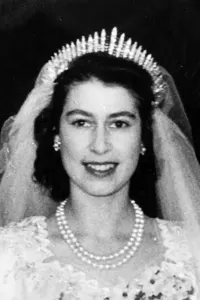 Engagement Ring from Prince Philip
The ring features a three-carat round center stone and 10 additional other diamonds set in platinum. It is made up of diamonds given to him from his mother, Princess Alice of Battenberg, from the tiara she was given on her wedding day. It was a modest Choice for a princess, but fitting as the country was just coming out of a time of World War II and still economically recovering.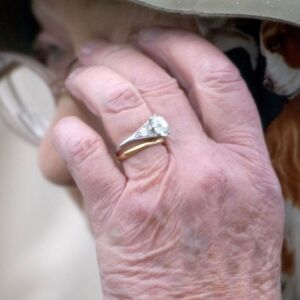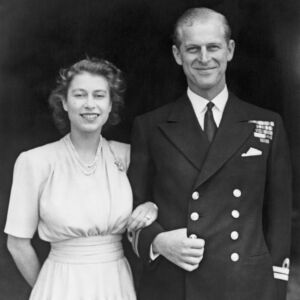 Scarab Brooch
A gift from her husband, Prince Philip, this is said to be one of her favorites. She has worn it often since she received it in 1966.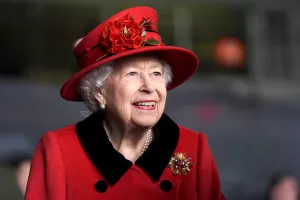 The Girls of Great Britain and Ireland Tiara
This is said to be her favorite tiara. It originally was topped with 14 pearls. Originating from 1983, the crown was passed down to Elizabeth as a wedding gift from her mother. This crown has become the most recognized, as it is featured on several portraits of The Queen, including her portrait on banknotes and stamps.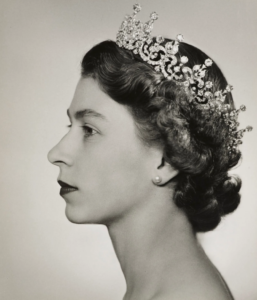 The Greville Chandelier Earrings
Gifted to her by her parents as a wedding gift, the earrings feature every known cut of diamond. However, she didn't get her ears pierced until four years later. She wore them numerous times over the years, especially when meeting foreign dignitaries.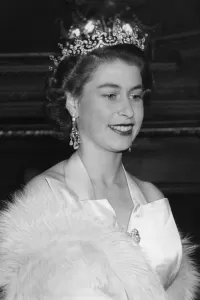 The Flower Basket Brooch
Given to her as a gift from her parents at the birth of her first child, King Charles III. It is set with diamonds, rubies, emeralds and sapphires. She debuted it in her first official portrait of her and Charles. ruby and sapphire brooch.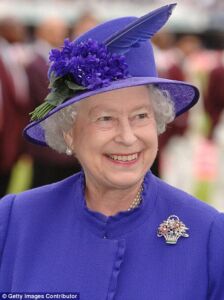 Queen Alexandra's Kokoshnik Tiara
The crown was commissioned by Queen Alexandra, made in the style of a popular Russian style, a kokoshinik. It can also be worn as a necklace and is made from 61 platinum bars studded with over 488 diamonds. The Queen favored wearing it when she wanted to add a bit of glamour.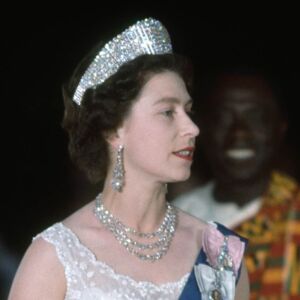 The Vladimir Tiara
The tiara was smuggled to the UK after the assassination of the Romanov family. The Queen has worn the crown three ways: with droplet pears, droplet cabochon emeralds, and with just the diamonds alone.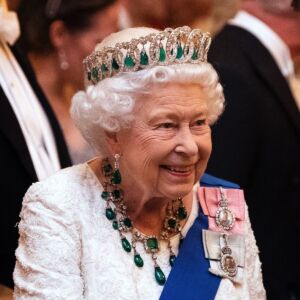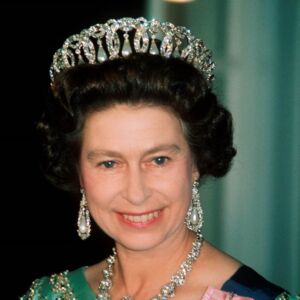 Queen Mary's True lover's Knot Brooch
The largest brooch that The Queen owned, it was given to her upon Queen Mary's death. The fanciest of her brooch collection, she mostly wore it to evening events but did notably wore it to the wedding of William and Kate.