A popular trend in jewelry wearing right now is layering. Whether you gravitate towards the delicate and dainty or bold statement looks, this way of wearing seems to be embraced by all camps. So, how do you do it? How do you put together a layered look that feels cohesive but not like you went out and bought it all at once? While this method of accessorizing certainly looks effortless and chic in the wild, we know it isn't always that simple when it comes to mixing and matching from your own jewelry box. Below, we present to you a few examples of how necklace layering can be done well across style preferences.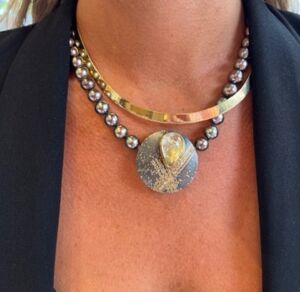 BOLD
Achieving a layered look doesn't necessarily mean wearing three or four necklaces. You can pick a couple you love and let those shine. One easy way to approach it is pairing your signature base – a simple piece you are known for wearing daily – with a showstopper. In this example, we've paired a flat gold omega necklace with this fabulous Tri-Gem Tahitian Pearl necklace that also has gold accents around the 17.32 CT Pear Shaped Topaz.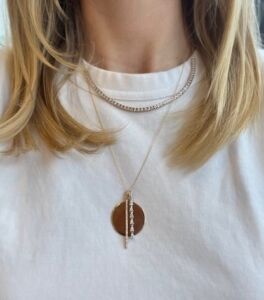 DAINTY
For those who prefer lighter fare, layering can simply be a matter of donning dainty necklaces with varying chain lengths. In this instance, we opted for a diamond line necklace and gold chain pennant necklace. The pennant offers charm addons for addition layering and dimension.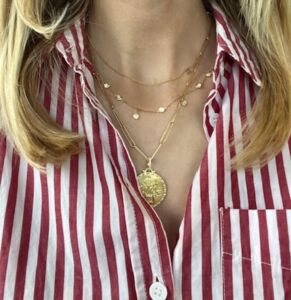 SYMBOLIC
Perhaps our favorite way to enjoy necklaces, is by combining symbolic pieces acquired over the years. Think self-purchases paired with gifts and treasured family heirlooms. This approach will ensure accessories don't feel forced, but instead, are highly personalized and an authentic representation of the wearer. When matching metals, try varying chain lengths and weight, like this example. Here, we feature a self-purchase diamond necklace paired with a Love Letters charm necklace gifted by a husband commemorating the birth of their first child with a Dorian & Rose wheat medallion on a paperclip chain – a legacy piece passed down from the family's matriarch.
Whatever your style, the common theme between these illustrations is wearing and matching pieces that are authentic to you. Much like one's approach to interior design, curating jewelry is best done thoughtfully over time with a focus on longevity vs. fast fashion. As is true with much in life, your look will ring true when it truly reflects you, the wearer.
Interested in a style consultation or in search of the next layering piece to add to your collection? Give us a call to schedule an appointment at 314 863 8820.
Featured:
Tri-Gem- Tahitian Pearl Necklace (16" length) with 18KYG clasps $3450; Atelier Zobel- 24KYG/22SS 17.32CT Topaz Pendant with 14 white diamonds (.14ct) $3950; 14KYG Flat Omega Necklace (17" length) $1975; Dana Rebecca- 14K Yellow Gold 16" Diamond Tennis Necklace with 53 Round Diamonds (0.90CTW) (GH/SI)  $3,275; Dana Rebecca- 14K Yellow Gold Disc Charm and Pave Diamond Bar Necklace with 31 Round Diamond (GH/SI) (0.11CTW) on a 20″ chain $1,725; Dana Rebecca- 14K White Gold Pear Diamond Pendant with 6 Pear Diamonds (GH/SI) (0.42CTW) $1,200; 18k Yellow Gold Elleard Heffern Signature Love Letter Necklace starting at $270; Solo Collection- 18KYG 1.34CT Diamond Necklace (18" length) $3550; Dorian and Rose- 18KYG Handmade paperclip chain necklace (18" length) $2925; Dorian and Rose- 18KYG .20CT Diamond Wheat Medallion (This is the pendant on the previous necklace) $3650